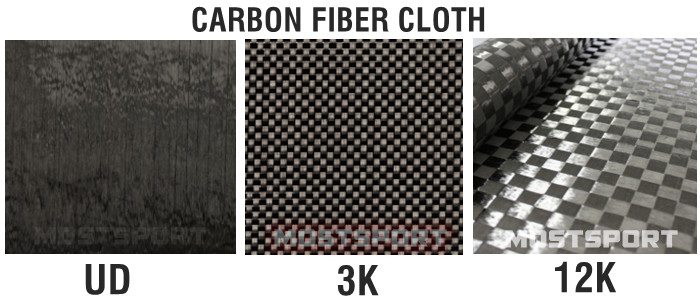 What's the different weave of carbon rim? Carbon fiber rims are mainly weave with UD, 3K and 12K. Everyone may like different weave carbon fiber rims. What is the difference between these different weave carbon fiber rims? What do they look like? What kind of weaving is the most popular? In this article, we will discuss the weaving of carbon fiber.
Carbon Fiber Tow is the thread used to weave carbon fiber fabrics. The number of filaments per tow determines what -K the weave is (i.e. 3K means there are 3,000 filaments per tow). There are several weave types: 1K, 2K, 3K, 12K. At the same time we can also offer two other special weave –Butterfly pattern and Marble pattern. Butterfly pattern is a weaving of an ultra-light structure, using a special single-point reinforcement technology. Currently, more than 10,000 carbon rims have been produced. This weave carbon rim is about 40g lighter than the ordinary woven rim, so this kind of weave is very popular, it is definitely a perfect choice for riders looking for ultra-lightweight carbon wheels.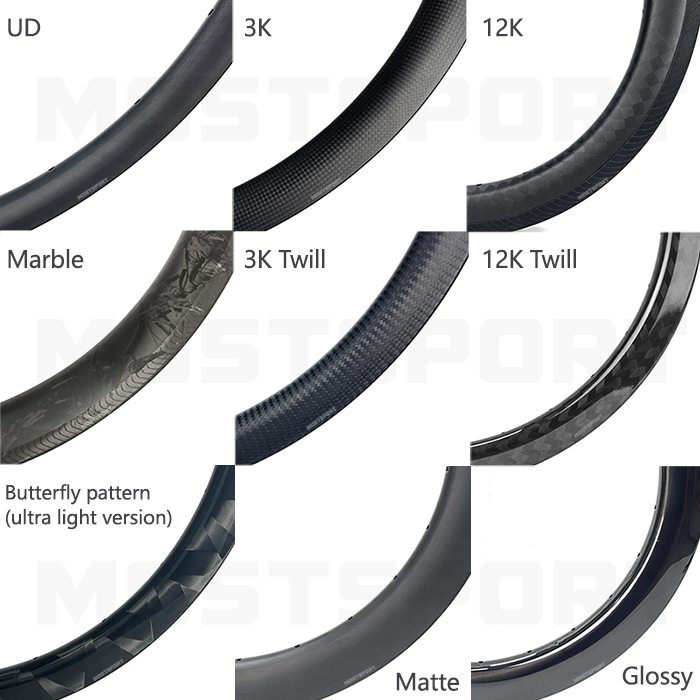 The widest is 12K, while 3K is the most common type of woven fabric used for carbon rims. UD means uni-directional. Different from the decussated/twilled woven fabric, the UD fibers are parallel to each other. Decussate means that the fiber crosses to form an "+". Twilled is a pattern of diagonal ribs. UD is the most popular type we use, followed by 3K, and then 12K. Most of the bicycle carbon fiber rims, frames and handlebars we see around us are based on UD carbon fiber.
These different weaves are only used on the outermost layer of the carbon rims/ frame, so the different weaves have nothing to do with the performance of the product, just to meet the different aesthetic taste of everyone,MOSTSPORT Composites Co.,Ltd can provide you with all of the above woven carbon fiber wheel sets. If you have any questions, please email: info@mostsport.com